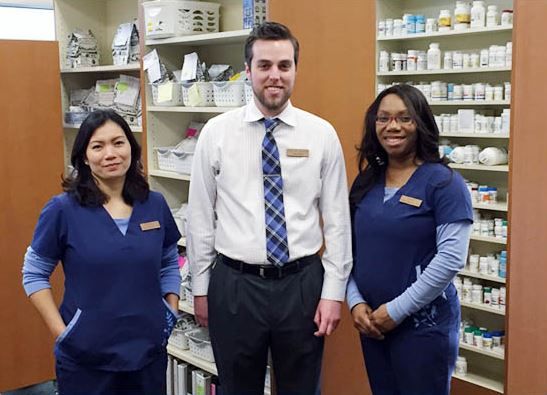 About Us
We're proud to be your local pharmacy for more than 40 years.
Professional Building Pharmacy is a part of the Good Neighbor Pharmacy network, offering you the convenience and pricing of a chain retailer, combined with the personalized touch you expect from a locally owned and operated shop. As compounding specialists, we can create custom pharmaceutical products tailored to your specific needs. We also offer a wide selection of durable medical equipment and fertility medicine. Our full-service pharmacy has a convenient drive-thru window.
We take your health seriously
A trip to the pharmacy doesn't have to take all day. The experts at Professional Building Pharmacy take your time and your health very seriously. With our expertise and excellent customer service, you can get your prescriptions filled promptly and efficiently, every time.
Convenient drive-thru
If you're in a real rush, take advantage of our convenient drive-thru window. Get all the service you expect from a full-service retail pharmacy, without leaving your car!
We're a "good neighbor"
As a member of the Good Neighbor Pharmacy network, we're able to provide you with the convenience of a chain, combined with the personal touch of a locally owned and operated shop.
Quality since 1974
With personal service and value pricing, Professional Building Pharmacy works hard to give you a helpful, friendly experience, every time you stop by. Whether you're looking to get your prescription filled, you need fertility medicine, or you need durable medical equipment, you'll appreciate our licensed and certified team.
Come get your prescriptions filled with a local favorite and join our pharmacy family today!
Kevin Gress, RPh, PharmD
University of the Incarnate Word
Kim Lindemann, RPh, PharmD
David Lee
Assistant Pharmacy Manager